Custom Collection & Testing Programs to Meet Your Needs
IOM can customize a collection and testing program for lubricant oils, fluids, greases, and more from around the world. Our mission is to provide reliable and unbiased data based on the materials selected from the global marketplace. Once testing is selected from more than 150 test methods, the data is generated by ISO/IEC 17025:2015 accredited laboratories to ensure quality and consistency.
IOM's Collection Program:
A resource to complement current operations in market research, QA monitoring, and competitive intelligence.
Each component can be tailored to meet individual specifications.
A variety of sample types can be collected using our experienced collection network.
Directed collections by regions, states, territories, and even cities may be possible.
Programs can be conducted as single collections or on-going projects.
The IOM Test Matrix can also be customized.
Going Beyond
Collections now go beyond passenger vehicle engine lubricants and can include recreational, marine, and industrial lubricants and more. Products selected do need to be available in the marketplace.
Automatic Transmission Fluids (ATF)
Electric Vehicle Fluids (Non Factory Fill)
Industrial Lubricants
Hydraulic Fluids
Gear Lubricants
Greases and more
Expanded Testing Services
An expanded test slate is now available including more than 150 test methods. The test slate covers the IOM basic test matrix in addition to chemical characterization, oxidation, wear, and performance testing. Customized data reporting formats are also available including demographics of collection, i.e., location and purchase price. Analysis of data results by specification is also a service offered by our experienced industry experts.
Worldwide Collections
Collections can take place at any point during the year. IOM's trained collectors are in many countries around the world. Materials are purchased by our collectors from a variety of retail locations including auto parts stores, super-stores, dealerships, fuel stations, and truck stops and shipped to IOM. Materials may also be purchased from reputable online shops and stores.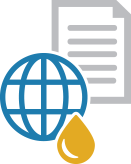 Engine Oil Database - Reliable, Unbiased, Extensive Data
Access to engine oil data can assist and improve the decision-making process related to marketing, competitive intelligence and more. The database contains engine oil data from 2005 to 2021 when IOM moved to a custom collection approach.
Global Coverage
IOM Collectors located throughout the world purchased hundreds of engine oil samples each year from retail markets. Regions include:
North America
South America
Europe
Asia-Pacific (also includes: Australia, India)
South Africa
How to Purchase
The market value cost per oil to run through the testing matrix is well over US $3000. IOM users receive this valuable data at a substantial cost savings through regional databases or individually selected oils and tests from the archives of over 19,000+ engine oils. Follow these simple steps to select and purchase data and reports.